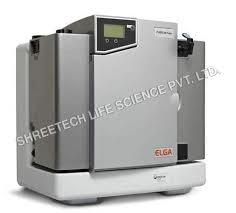 Ultra Pure Water System
Price And Quantity
480000.00 - 1300000.00 INR
Product Description
Ultra Pure Water System is most commonly utilized in semiconductor industries and laboratories where even single ion can alter or harm whole processing system. It is known to operate on principle of de-ionization and reverse osmosis thus results in removal of all kinds of solid & dissolved impurities including heavy metals & pathogens. This is completely automatic system which is provided with digital screen for monitoring & setting required parameters. It has been equipped with UV source which ensures complete elimination of all kinds of microorganisms. Ultra Pure Water System is also required for advanced techniques including HPLC.

Elga water is a part of Veolia lab water. water purification is often a complex process that incorporate multiple technologies into a single purification system. it may help you for during the sample preparation and many more analysis or application.
We have type I or type II system both. we also have such system in which you will get the type I water quality though the direct tap water.
for more details drop your enquiry.